The Early Development Instrument, or the EDI for short, is a questionnaire developed by Dr. Dan Offord and Dr. Magdalena Janus at the Offord Centre for Child Studies at McMaster University.
The EDI is a 103-item questionnaire completed by kindergarten teachers in the second half of the school year that measures children's ability to meet age-appropriate developmental expectations in five general domains:
Physical Health and Well-Being
Sample EDI question: Would you say that this child is well coordinated (moves without running into things or tripping over things
Social Competence
Sample EDI question: Would you say that this child is able to follow one-step instructions
Emotional Maturity
Sample EDI question: Would you say that this child comforts a child who is crying or upset
Language and Cognitive Development
Sample EDI question: Would you say that this child is able to read simple words
Communication Skills and General Knowledge
Sample EDI question: How would you rate this child's ability to tell a story
Objective of the EDI

Reliably assess the developmental health (skills and behaviour) of children at the age of developmental transition from early development to school age in a holistic manner. The EDI is a holistic assessment because it encompasses five major areas of child development.
The EDI is a reliable and valid measurement tool of developmental status completed on individual children between 3.5 and 6.5 years of age. After teachers complete the EDI on each individual child in their class, the results are grouped together to give a snap shot of how children are doing across schools, neighbourhoods, cities, or even provinces and countries.
Objectives of the National EDI Research Program
1) Assess the strengths and deficits of students
Understanding the developmental health of populations of children allows organizations and policy makers to make informed decisions about programs that support children's areas of greatest need.
2) Report on populations of children in different communities
The EDI is a population-level research tool, which means that when it is implemented for all children in kindergarten classrooms, it measures developmental change or trends in populations of children at different levels of geography (e.g., provincial, regional and neighbourhood).
3) Provide a kindergarten benchmark for monitoring child development trajectories
EDI data contribute a developmentally-based indicator on children at the cusp between early development and school-age that, together with other indicators, can inform research and policy about the outcomes of the early years and predictors of later development.

When are the EDI data collected?
The EDI data are collected in the second half of the kindergarten year for two important reasons. First, by that time, the teacher will have grown to know their students well and can easily and efficiently complete the instrument. Second, a lot of children who may have showed some weaknesses at the beginning of the school year due to unfamiliarity with the school environment or the language of instruction will be able to catch up with their peers within a few months. This means only the group who still shows weaknesses shortly before the start of grade school are deemed vulnerable.
Where have the EDI data been collected?

The EDI has been used since 1998 in Canada and has been implemented in every province and territory in the country with the exception of Nunavut. Many EDI collections initially started out as small, local collections, but over time have evolved into regular province-wide collections. Since its first collection in North York, Ontario the EDI has been collected for over 1.1 million children across Canada.
The EDI is also used internationally. Some countries are in the early planning stages of using the EDI and are participating in pilot studies, whereas others, such as Australia, have been implementing the EDI nationally for years.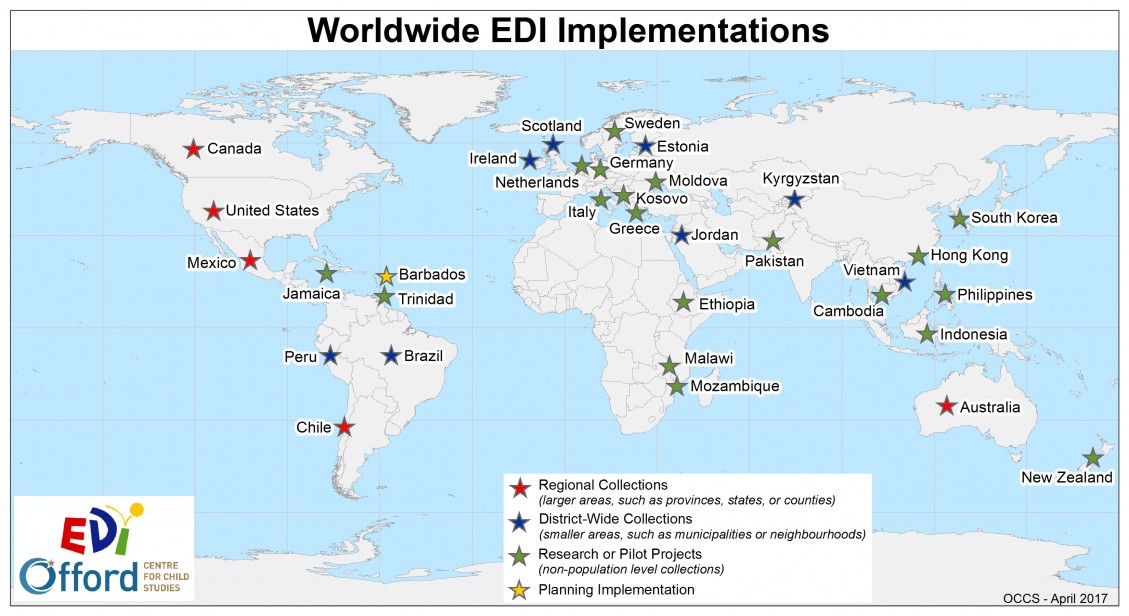 What happens with EDI results and who uses them?

The Offord Centre for Child Studies, at McMaster University, is the national repository of the EDI and the lead institution in the National EDI Research Program. Most of the EDI data are processed at the Offord Centre. Once data have been collected and analyzed, each site receives a report.
The EDI data can be helpful for a variety of different users.
Educators and school representatives can use EDI results to help identify the strengths and needs of the children within their communities. These data allow for creating targeted programs that affect the areas identified as the greatest need. Local groups can also use the data to better advocate for changes to policies and funding.
Government can use EDI data to plan early childhood investment, inform policy and program development decisions, or evaluate programs. The use of EDI maps can help focus investments and identify the areas with the highest needs.
Researchers can use EDI data to address important questions and create new research programs to help better understand the genetic, biological, and social determinants of children's health, well-being and development. This research can help inform policy and program development.
* EDI domain logos were originally created by the Knowledge Translation team at the Human Early Learning Partnership and are reproduced with permission.