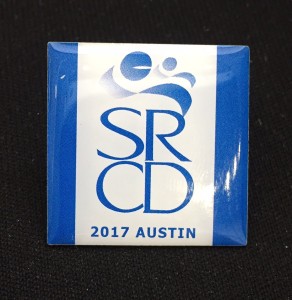 The Biennial Meeting for the Society for Research in Child Development (SRCD) was held in Austin, Texas on April 6-8. The conference featured over 6,000 child development professionals and researchers connecting and sharing information and ideas.
The 2017 conference featured a new, more interactive format. The goal was to emphasize interaction among participants – especially through panel discussions and moderated conversations called the Invited SRCD Salon.
The EDI was well represented at this year's event. Below are PDF copies of the posters the EDI team presented. The full conference program can be found online.
Creating a Pan-Canadian Database of Child Development and Socioeconomic Indicators for Research – Martin Guhn, Barry Forer, Magdalena Janus, Eric Duku, Marni Brownell, Nazeem Muhajarine, Anita Minh, Monique Gagne, Rob Raos, Simon Webb, Dena Zeraatkar, & Jennifer Enns
Is the Developmental Health of Young Canadians Changing Over Time: Jurisdictional Differences in Recent Trends – Simon Webb, Eric Duku, & Nazeem Muhajarine
Can the Early Development Instrument (EDI) be used to Explore Social Determinants of Health for Children with Special Needs? – Dena Zeraatkar, Eric Duku, & Magdalena Janus
EDI research will be presented at the following upcoming conferences. If you are attending please stop by to learn more about what we're currently working on.
International Meeting for Autism Research (IMFAR) - San Francisco, California May 10-13, 2017

Understanding Prevalence and Kindergarten Behavioural Profiles of Children with Autism Spectrum Disorder

Public Health - Halifax, Nova Scotia June 6-8, 2017

Gender, Socioeconomic Status and Early Child Development: Are Boys from Low-SES Neighbourhoods Getting Left Behind?

On Track: Examination of Demographics of Ontario Kindergarten Children with Adequate Development

International Society for Child Indicators (ISCI) - Montreal, Quebec June 28-30, 2017

Linking Pan-Canadian Indicators of Developmental Health with Socioeconomic and Administrative Data

Prevalence and Geographical Variation of Anxious Behaviour and Comorbidity Problems in Children at School Entry Using Teacher-Reported Population-Level Data Over Time in Ontario

What's New in the Field of Measuring Early Child Development: Methodological and Empirical Advances in the Context of New Sustainable Development Goals (SDGs)