The EDI is a key piece of a new government initiative to track and report on health inequalities.
Health inequalities are differences in health between population groups. These differences are largely beyond the control of individuals. The Canadian government has pledged to take action to end these inequalities. Monitoring and reporting on health inequality is a critical foundation to achieve this goal.
That's why the Government of Canada created The Health Inequalities Data Tool.
The tool contains data on indicators of health status and health determinants. The EDI is one of these indicators.
The tool also features:
mortality and life expectancy
morbidity and disability
mental illness and suicide
self-assessed physical and mental health
disease/health condition
health behaviours
physical and social environment
working conditions
health care
social protection
social inequities
These indicators are then arranged by a range of social and economic characteristics.
The tool lets users select, download, and print data on health inequalities in Canada.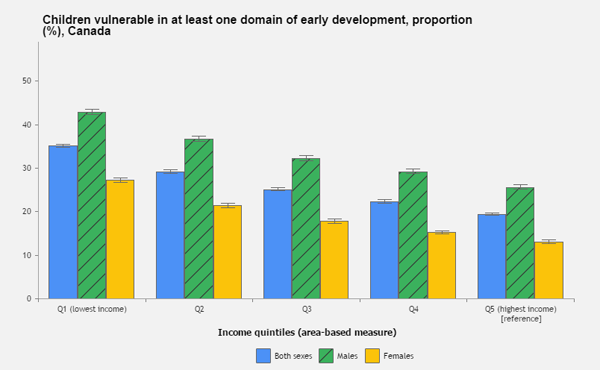 The tool is a collaboration between the Public Health Agency of Canada, the Pan-Canadian Public Health Network, Statistics Canada, and the Canadian Institute for Health Information.