Illinois communities will know a little more about their children, thanks to an Erikson Institute pilot project featuring the EDI.
The project, supported by an $800,000 grant from the Robert R. McCormick Foundation, was implemented in a select group of Illinois communities starting in 2016.
The project intended to pilot the EDI to promote community-led and data-driven change. By using the EDI, communities will be able to better understand the needs of young children and their families. The pilot will help form policy and provide data to better allocate resources.
In fall 2016 the first two community partners for phase one of the project were selected:
The Kankakee County collection received 691 completed EDIs.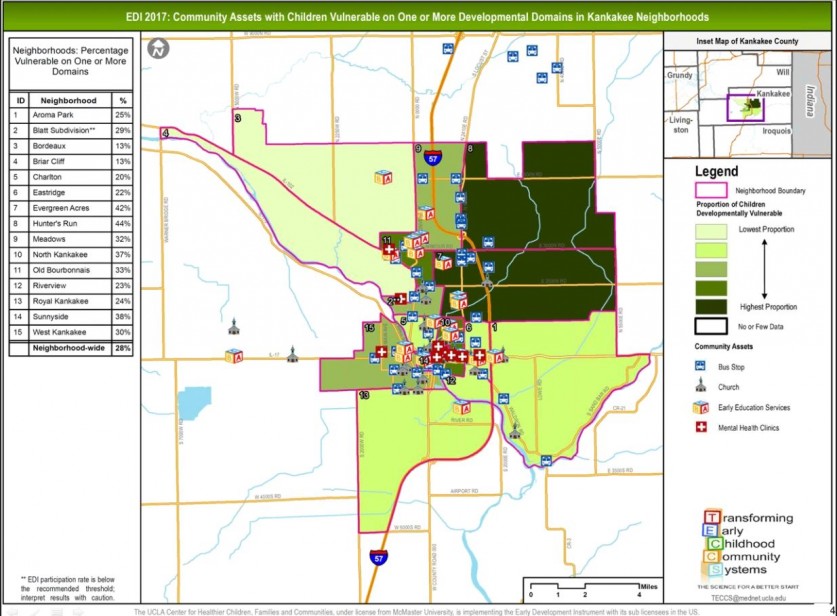 The Greater East St. Louis collection received 428 completed EDIs.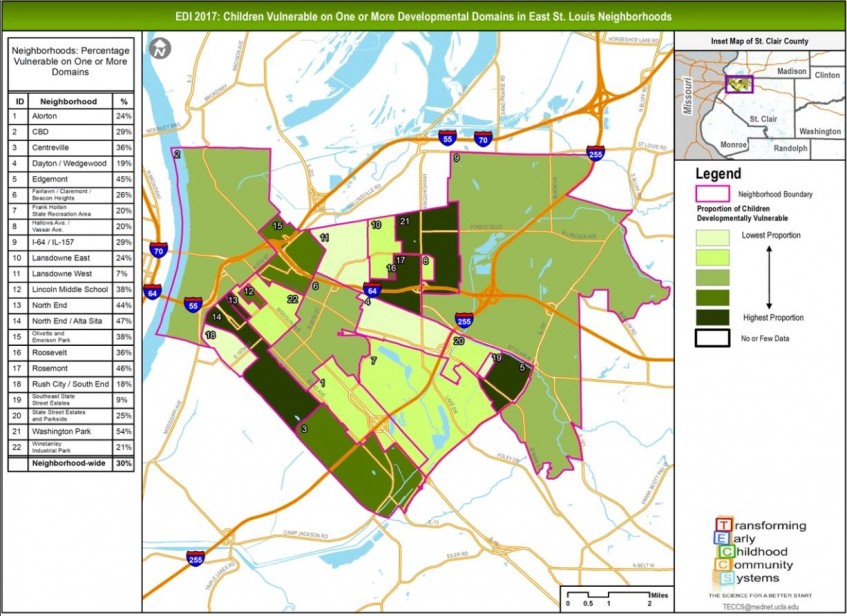 Both areas are currently in the strategic planning process to determine how to best use the data.
In spring 2017 two additional community partners were selected for phase two of the project:
Phase two is beginning with community orientations and planning meetings.
Phase three will target specific communities that will give a unique perspective to the pilot phases.
Over 50 communities have implemented the EDI in the United States through the Transforming Early Childhood Community Systems initiative, a partnership between the United Way Worldwide and UCLA. However, this pilot is the first time the EDI has been used in Illinois.
Bringing the EDI to Illinois was thanks to the efforts of Erikson Institute, one of America's premier graduate schools in child development. Erikson Institute works to improve the care and education of children from birth to age eight through different ways:
Training early childhood professionals
Assessing and treating children's developmental, behavioural, social-emotional, and learning issues
Helping stressed parents build strengths
Improving schools in Chicago
Enhancing math education in preschool and kindergarten
Studying early childhood programs to understand how and why they work
Erikson supports the selected communities with coaching, technical assistance, and providing resources to implement the EDI, analyze the results, and develop action plans.
About EDI on the Go

This article was originally featured in EDI on the Go, the EDI newsletter. Each issue highlights a community implementation or research project using the EDI. The newsletter also features the latest EDI news and events.

Become a subscriber today.