The EDI started in Canada in the late 90s, and since that time has been collected on over 1.5 million Canadian children. But the EDI has also crossed the border and grown in popularity internationally. Over 30 countries have adapted and implemented the EDI, with sizes ranging from small research projects, like in Brazil, to large, national implementations, like in Australia.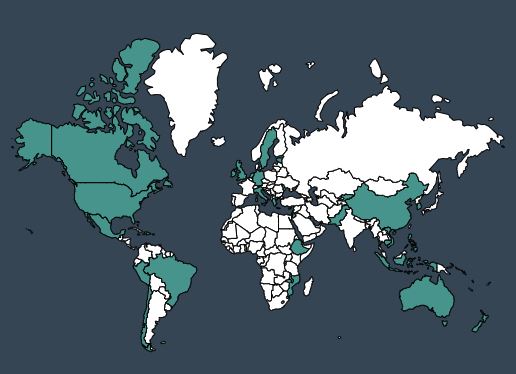 What goes into implementing the EDI thousands of kilometers from home? Although the EDI measures universal aspects of development, international partners need to do more than print a batch of EDI questionnaires and begin collecting data.
The first obvious change that needs to be considered is language. To ensure nothing gets lost in translation, the questionnaire needs to be translated into the new language and then translated back into English for review by the Offord Centre. This way the original meaning of the EDI items is maintained.
Ensuring an accurate translation is important because all the core questions of the EDI need to stay the same. However, there is some leeway to adapt the language in an item to fit the local context. In certain special cases an item may also be removed or replaced if they clearly are not relevant locally.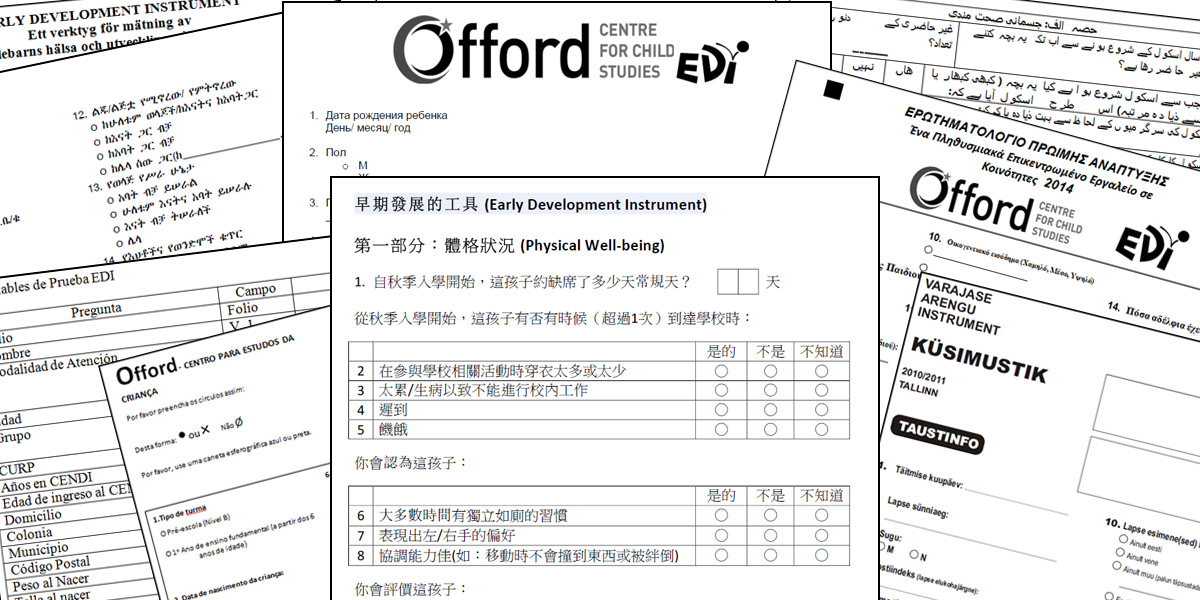 Once the international version of the EDI is solidified it must undergo pilot testing. Even though the EDI has been extensively piloted and tested for its validity and reliability in Canada, the same rigorous approach needs to be undertaken abroad. This step is essential to ensure that the EDI items reflect children's skills accurately and that teachers and educators can respond to the questions quickly and easily.
Some ways of testing the EDI's reliability and validity in the local context include:
Having a subgroup of teachers complete their assessment twice.
Linking the EDI data with individual assessments of children's cognitive abilities (conducted separately or previously).
Selecting a representative sample of parents for parent interviews.
The data from these additional assessments should be analyzed for their association with the EDI results.
Validity and reliability of the Early Development Instrument in Indonesia

Investigating the validity of the Australian Early Development Index

Validation study of the Chinese Early Development Instrument

Validity and psychometric properties of the Early Development Instrument in Canada, Australia, United States, and Jamaica

Socioemotional development and its correlates among 5-year-old children in Peru and Brazil
Once pilot testing confirms the EDI is an accurate measure of children's developmental health locally, it can be used to better understand how children are doing.
Governments of all sizes participating in EDI data collection are increasingly using these data for policy evaluation at a population level and resource allocation. Australia undertakes a national implementation — with collections in 2009, 2012, 2015, and 2018 — after including their version of the EDI as a national progress measure. The data also helped inform a major review of early child education and care in 2014.
Another reason for the EDI's adoption in other countries is its ability to be linked to other health and well-being indicators.
Children of parents who have been hospitalised with psychiatric disorders are at risk of poor school readiness

The impact of parental mental illness across the full diagnostic spectrum on externalising and internalising vulnerabilities in young offspring

Placement in care in early childhood and school readiness: A retrospective cohort study
Often, international implementations are not large-scale, country-wide collections. In many cases we are contacted by a researcher hoping to use the EDI as a part of their studies. While the EDI is well suited to large, population-level collections, it has also been extensively used with subgroups of children.
Socioeconomic gradients in school readiness of Chinese preschool children: The mediating role of family processes and kindergarten quality

Are the special educational needs of children in their first year in primary school in Ireland being identified: a cross-sectional study

Parental restriction reduces the harmful effects of in-bedroom electronic devices
Anyone interested in using the EDI as a part of their research program is encouraged to contact our team at the Offord Centre for more information.
About EDI on the Go

This article was originally featured in EDI on the Go, the EDI newsletter. Each issue highlights a community implementation or research project using the EDI. The newsletter also features the latest EDI news and events.

Become a subscriber today.